In this article:
1. The Best Scents
2. Custom Labels
3. Perfect Gifts
4. Easy To Create
5. Safe And Eco-Friendly
If you're looking to buy the best scented candles online, a quick Google search will show you hundreds of options. This is great news for candle lovers, but the amount of choices is overwhelming, especially when you can't smell them before you buy.  
Enter Lola and Maeve, a personalized candle company that puts the customer in charge of how their candles look and smell. We launched in the summer of 2021 with a fresh perspective on the candle industry that doesn't just offer more of the same. 
Here's a breakdown of our up-and-coming candle company, and five reasons why we are confident we'll become your new favorite!
First and foremost, you can't claim to sell the best scented candles without knowing a thing or two about fragrance! Prior to launching Lola and Maeve, our team has spent their careers in the creative departments of the country's largest and most successful candle companies. We KNOW what scents people love to have in their homes!
Lola and Maeve feature an "everyday" fragrance menu featuring 10 gorgeous scents that are not only very popular, but are perfect year-round. Any of them are great options if you are creating a candle to give as a gift. 
We also proudly feature seasonal scents, and the process for choosing them is quite fun! Dozens of fragrance samples are carefully sniffed and sorted. Our favorites are then test-burned to check for throw and to see if they smell as nice burning as they do on cold.
When we have whittled the samples down to a handful, we choose a few to add to our  menu. It is important to us to offer customers seasonal scents that provide a unique fragrance experience that you won't find everywhere else!
A really cute option you'll find on our fragrance menu page is our dog personality scent profiles. If you are making a candle with your dog on the label, you can choose a scent based on your dog's personality.  
The best thing about Lola and Maeve fragrances is that they beautifully fill your space  without overpowering it. You can easily tell you are experiencing premium, quality scents. It's a nice change of pace from the heavy and sinus-irritating cheap fragrance oils that many candle companies use.

This is the fun part! It's also the part that makes Lola and Maeve candles unique. We take your most cherished memories and turn them into a beautiful label for your candle. Simply upload the photo you wish to use, and add your own custom message.
You might see a few other candle companies offer personalization, but Lola and Maeve take it to a whole new level. Each photo is checked and enhanced to make sure it looks as best as it possibly can on your candle. The quality of our photo labels is unmatched.  

There is an incredible human element to running a personalized candle company. Since we personally process each label, we get to smile along with your milestones and celebrations, mourn with your memorials, and "AWW" at your beautiful families and pets. 
Every label we create is placed by hand on your candle and packed with the care and respect it deserves. 

According to the National Candle Association, Americans spend over 3 billion dollars each year on candle products. Candles bring such joy and quite literally light up our lives, so it's easy to see why they make such amazing gifts for any occasion!
Scented candles have a wonderful ability to enhance our mood or atmosphere. The right scent can invigorate and uplift us, leaving us feeling motivated and energized. For fun scents like these, we recommend Eucalyptus Mint, or Pink Sugar!
Likewise, many scents have the ability to calm and soothe us when we wish to relax and unwind. Vanilla Lavender or Belgian Linen are luxurious options to get cozy with.
Scented candles can also be stylish pieces of decor for your home or space. Especially when your own photo is featured on the label that you created for yourself or as a gift for someone else! You can take a favorite memory and turn it into a gorgeous home decor piece.
It's the element of personalization that makes a gift unique, and Lola and Maeve really delivers! You can design someone a heartfelt gift that they can't find anywhere else. Every candle arrives in a beautiful box ready for giving.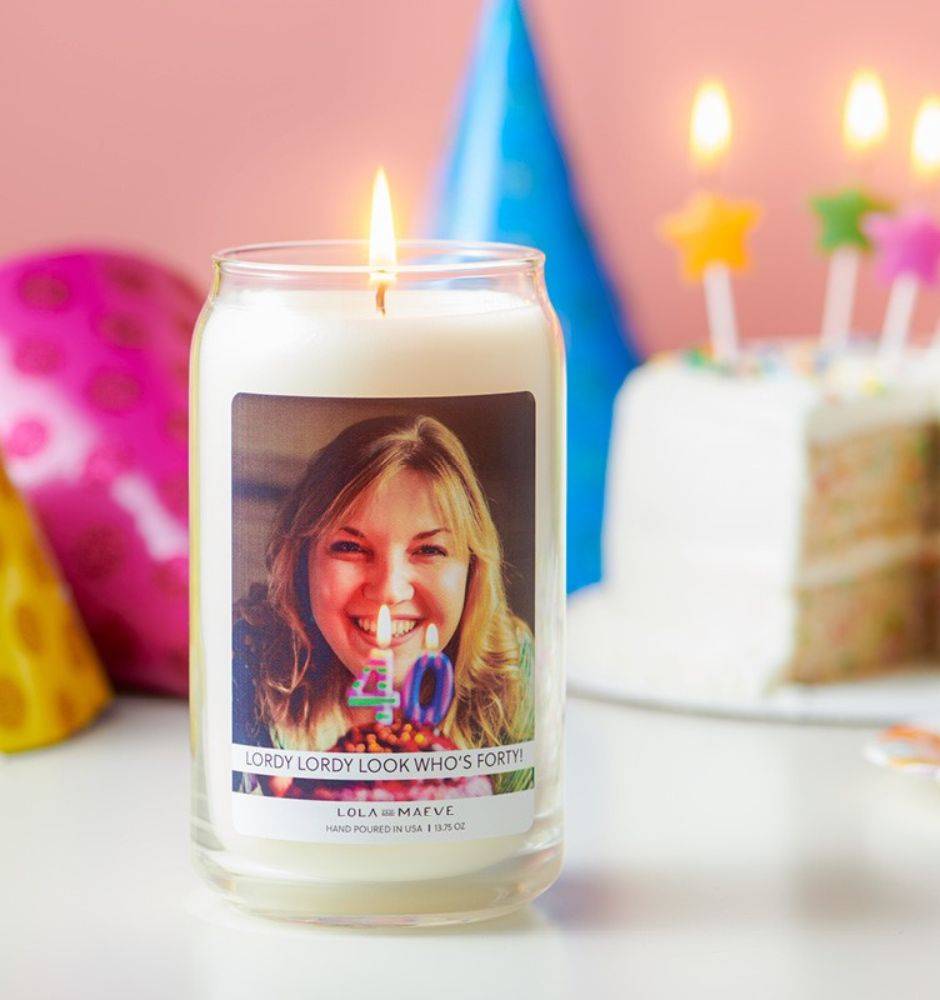 Designing your custom label is actually quite easy. The first step is figuring out which photo you want to use. If you are making a gift for someone and you don't know what photo to use, you can always take a screenshot of one you like from their social media. After all, most people put their best photos on Facebook or Instagram!
When you have chosen your photo, just upload it from your phone or computer into our configurator. Be sure to use the arrows to align your photo. If you are using a screenshot, you may want to crop the photo first to eliminate any unwanted borders or text.
When you have uploaded and aligned your photo, it's time to type in your custom message! You can add up to 30 characters and you can use heart emojis if you'd like. Then, select the scent you want from the drop-down menu and that's it! You've just created your masterpiece!

Please know that if you ever have any questions or need any help, just email us at hello@lolaandmaeve.com and we will be more than happy to assist you!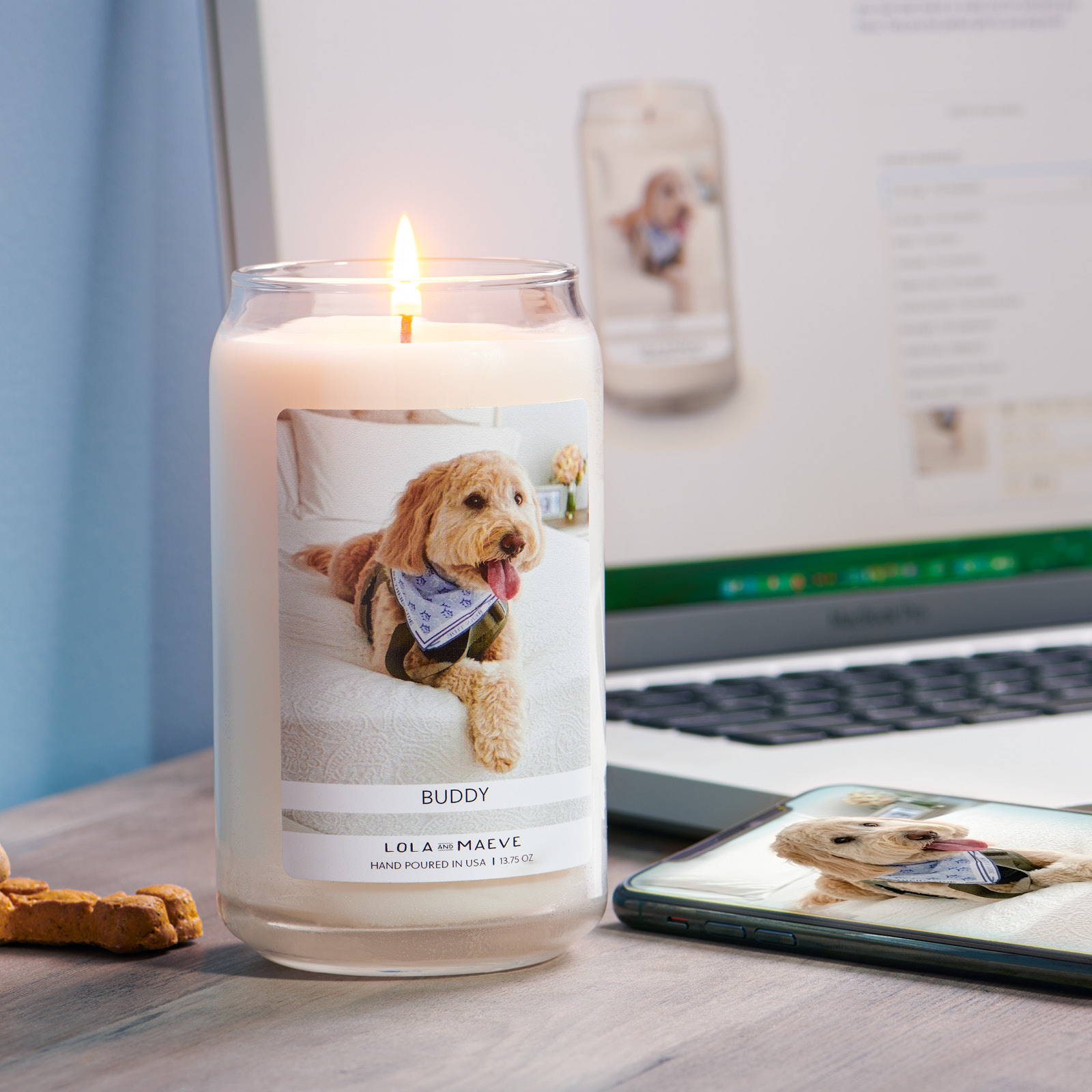 We are proud to say that Lola and Maeve candles are made from an eco-friendly blend of soy, apricot, and coconut wax with natural fragrances and a 100% cotton wick. They are paraben and phthalate free and safe to burn around your family and pets.
No colored dyes are used. All candles are the lovely white color of the wax, which really makes your photo stand out and complements any setting. 
The wax burns clean and even, and you won't believe how long your candle will last! 60-80 hours is the typical burn time. When you compare it to the 25-45 hour burn time of the popular 3-wick candles other companies sell, it's clear Lola and Maeve offer incredible value. 
They come in beautiful glass jars that you can easily repurpose long after the wax is gone and continue to display your custom photo. There are so many fun ways to use your jar like filling it with holiday candy, or dog treats, or fresh cut flowers. The possibilities are endless!
Our candles are hand-poured in beautiful Western Massachusetts and shipped anywhere in the United States.
The Best Scented Candles You Need In Your Life!
Lola and Maeve candles:
-Smell amazing 
-Are fun and easy to customize
-Look gorgeous in any space
-Make perfect gifts
-Are made of quality, responsible ingredients
-Have unmatched quality and customer service
-Last a long time and can be upcycled
Personalize your candle today! When you join our email community you will receive a discount code you can use on your purchase. As soon as you receive your custom candle, be sure to let us know what you think!